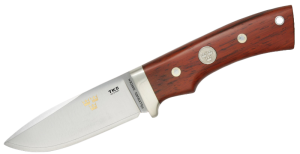 The TK5L de Luxe Hunter knife is a professional hunter's knife with a difference and is certainly a model that will go down well with the experienced game hunter. It is built around the maxim that a knife does not have to be very large but it is crucial that it is well shaped. The droppoint style blade ensures that the design is just right for not cutting through guts or membrane, of course the user has to be skilful enough to know how to actually put the cut into place.
It is also important to note that the three finger knife will only function correctly if you manage to place the end butt into your palm and your fingers over the blade. The TK 5 is also not your regular wood carving knife but should be used purely as a dedicated hunting knife. However the slightly shorter size of the knife also makes it popular amongst users who may also consider it as an all-round knife. As with all Tre Kronor handles, the TK5 should be well taken care of and some furniture cream spread over it from time to time will not go amiss to keep the TK5 in great shape.
The TK5 comes from the prestigious Tre Kronor series which offers a technological solution that is mixed with the timelessness of Swedish design. The 3G blade is the result of a painstaking development process which creates a blade of unparalleled quality throughout. The TK5 can be described as a minimalist knife which is practical and extremely easy to use. The TK5 El sheath is also a work of art in itself and is available in strong black leather with double liner that protects the knife from anything.