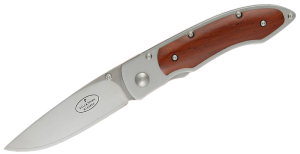 The P3GN is a classic folding knife which brings along several cool variations and is up to the usual standards that one expects from Fallkniven. There are a number of versions of this knife but this particular one comes with a nail nick which is useful in certain situations. The P3GN also has an intriguing frame lock and has a blade made out of 3G steel which is the nominal SGPS powdered gold steel in the centre flanked by two layers of anti-corrosive VG2 steel for maximum performance.
The knife appears to handle well in difficult circumstances and although the blade is quite heavy duty and can take all sorts of punishment, it would be useful to restrict to it certain basic tasks in the beginning and keeping it sharpened using one of Fallkniven's custom made sharpeners. There isn't much blade play at all since the blade is held firmly in its place by the locking mechanism.
The P3GN has a simple yet advanced design which has attracted the admiration of several  with a size that is pretty much ideal for both hunters as well as anglers. The handle is also very easy to clean and yet another intriguing feature is that the knife can be opened and closed with either hand very easily with the internal lock being quite safe. And as you can expect from the VG10 steel this has incredible edge retention although one can also opt for the 3G steel option.
One has to keep in mind that a folding knife can never be as strong as a sheath knife since this is composed of moving parts. So you have to learn to treat the P3GN with respect. Make sure to sharpen it as often as possible using the DC3 and DC4 tools but also ensure that the handle is kept clean by rubbing it with a soft cloth soaked in some warm water. The P3GN is a folding knife which will never let you down.